03 octobre 2008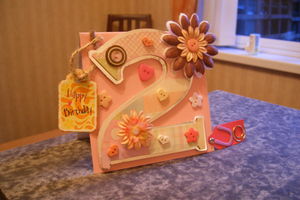 Ma derniere carte en date.... Happy Birthday to you!
Faut juste savoir parler anglais untout petit peu, j;explique:
J'ai mis un tag a gauche avec "Happy Birthday", le gros 2 est pour "To" (en anglais) et le petit tag a droite est pour le "you", ce qui nous donne:
Happy Brithday to you!
Happy Birthday 2 U!
---
I started out with the number 2, I dont know why I had it in my stash, but it wasn't doing anything, so I used it. I then looked only at the bits and pieces that I received from various people (inclusing some of you guys!) in the past few days…
I made a birthday card (Happy Birthday 2 U), with a tag for "Happy Birthday", the number 2 for "to" and another wee tag on the right U for "you"… (hope it all makes sense!)
Commentaires sur Happy Birthday 2 U!